Had to wait to get this one out because of Christmas activities. And I'm now posting it, not on my blog but in the forums.
Story 9/10
A very interesting story here, and it is the thing that drew me to the series itself. As an mmo player myself, it leaves you wanting to play the game you are watching. Even if you die when your character does. True at some points being an mmo player will have you yelling at the screen trying to tell the animated characters how to play, but it's really enjoyable.
What brings the story down below a ten is the fact that if you haven't read the light novels the opening at a certain point showing Kirito and some new characters flying about with wings and pointed ears before it is introduced in the story can leave you looking around asking; "Wait, flying fairies, what?" The change of games as well is sort of jarring.
Animation 10/10
This anime is beautiful. The character designs, the armor and weapon designs, and the scenery leave you in awe. The movement for an action anime has to be smooth and it
SAO
does it's job. Rather fighting trash mobs, grouping up for a boss fight, or dueling other players, the action is portrayed in a way that keeps you interested and invested in what is going on.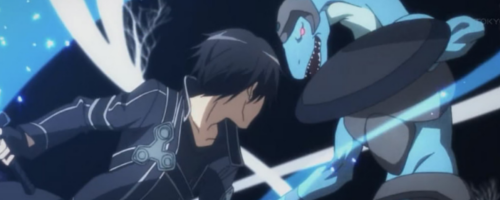 Sound 8/10
The two opening and ending themes here are lack luster. I found myself skipping them completely just to get to the good stuff. To me they aren't very memorable and don't go to well with the series. The voice acting however is great. You have a large cast in this anime and only two characters come out as annoying. At least the annoying characters don't show up to frequently. Always a plus.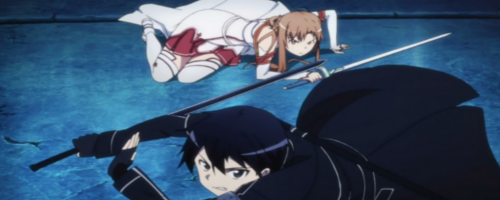 Characters 9/10
When you have such a large cast like this series you are bound to have a bit of confusion as to who is who. That is the only thing that brings the score down here. While I enjoyed most of the characters, and loved the main characters. The large cast really is daunting. You will be hard pressed to remember all of the characters names from the first half, when the second half of the series comes along.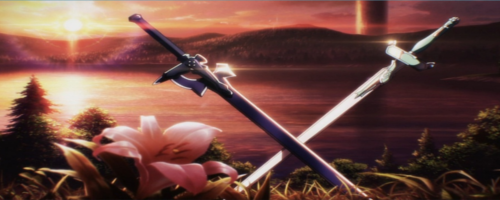 Overall 9/10
Overall this is definitely on my top ten list now. The story is fantastic. The animation and artwork is beautiful. And the cast is enjoyable. Though the themes are lacking in a lasting effect. it doesn't take away from the story itself, nor does it completely kill the enjoyment. I recommend this anime to fellow mmo players, and the anime fans looking for a great story.