Hey guys~! Here I would like to introduce an interesting Windows Gadget I made (working directly on Windows 10/8/7/Vista) which can ANIMATE your desktop with cute Anime stuff
----------------------
System Animator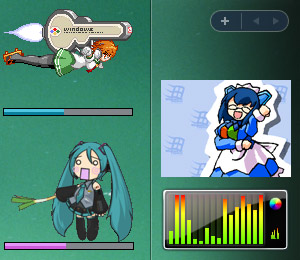 This gadget is multi-purpose system monitor with focus on visuals and FUN! How about a cute Anime gal who dances according to the CPU usage? An animated flag which waves faster when your drive is busy? The famous Matrix digital rain effect with scroll speed corresponding to your network traffic? It's up to your imagination!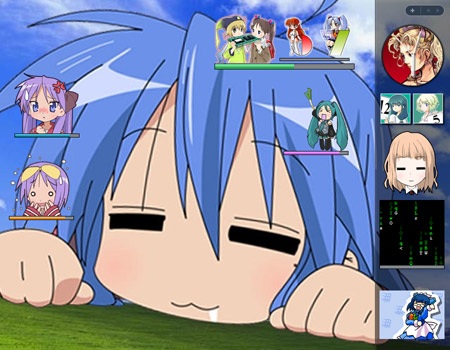 (full size)
The latest version of System Animator supports the monitoring of sound output! What does it mean? Well,
imagine your favorite Anime character singing and dancing to the beats LIVE when you play whatever song on your computer
The visual effects are especially interesting with certain songs (especially those with strong and clear beats). Pretty cool, right?
I don't think this is something you can do with Rainmeter or most other desktop buddy programs!
These YouTube videos show System Animator in ACTION!
They demonstrate System Animator as a multi-purpose PC activity monitor, as well as a music visualizer, with interesting and fully CUSTOMIZABLE animation!
More video demos can be found here.
This gadget is still growing, and I am still looking for ideas to improve it, so you guys' valuable comments are most appreciated!
Download "System Animator" here~!
----------------------
Major Updates
----------------------
Extra Animation Downloads
Extra animation downloads,
including most of the animations demonstrated in my demo videos
, can be found on the System Animator download page.