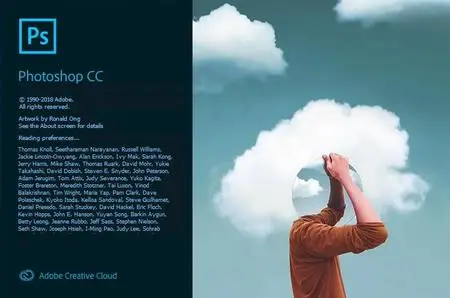 Adobe Photoshop CC 2019 20.0.5.27259 RePack KpoJIuK | 1.44GB
If you can think it, you can make it with Photoshop CC, the world's best imaging and graphic design software. Create and enhance photographs, illustrations, and 3D artwork. Design websites and mobile apps.
Edit videos, simulate real-life paintings, and more. It's everything you need to make any idea real.
Millions of designers, photographers, and artists around the world use Photoshop to make the impossible possible.
From posters to packaging, basic banners to beautiful websites, unforgettable logos to eye-catching icons, Photoshop keeps the creative world moving. With intuitive tools and easy-to-use templates, even beginners can make something amazing.
Whether you're looking for everyday edits or total transformations, our graphic design software offers a complete set of professional photography tools to turn your snapshots into works of art. Adjust, crop, remove objects, retouch, and repair old photos. Play with color, effects, and more to turn the ordinary into something extraordinary.
Draw and paint whatever you dream up with tools designed especially for illustrators. Paint in perfectly symmetrical patterns. Get polished looks with stroke smoothing. And create with pencils, pens, markers, and brushes that feel real - including more than 1,000 from celebrated illustrator Kyle T. Webster.
Photoshop is always getting better, with new features rolling out regularly. And with your Creative Cloud membership, you get them as soon as we release them. Here are some of the latest updates.
Paint in perfect symmetry with a new mode that lets you define your axes and choose from preset patterns like circular, radial, spiral, and mandala.
A dedicated workspace lets you select the exact pixels to use for fills, and Adobe Sensei makes it easy to rotate, scale, and mirror them.
Create shape or text frames to use as placeholders on your canvas. Drag and drop images to fill the frames and they'll scale to fit.
The latest enhancements include multiple undo, proportional transformation of pixel and type layers by default, and faster ways to crop, transform, and enter text using auto-commit.
- Processor: Intel Core 2 or AMD Athlon 64 processor; 2 GHz or faster processor
- Operating system: Microsoft Windows 7 with Service Pack 1, Windows 10* (Version 1709 or later)
- RAM 2 GB or more of RAM (8 GB recommended)
- Hard disk space: 3.1 GB or more of available hard-disk space for 64-bit installation; additional free space required during installation (cannot install on a volume that uses a case-sensitive file system)
- Monitor resolution: 1024 x 768 display (1280x800 recommended) with 16-bit color and 512 MB or more of dedicated VRAM; 2 GB is recommended**
- Graphics processor acceleration requirements OpenGL 2.0-capable system
Dansk, Deutsch, English, Español, Français, Français*, Hebrew*, Hungarian, Italiano, Nederlands, Norwegian, Polish, Português (Brasil), Suomi, Svenska, Turkish, Ukrainian, čeština, Русский , 日本語, 简体中文, 繁體中文, 한국어.
Assembly features:
Information about the assembly
1. Installation in two clicks, you only need to disconnect the Internet connection (manually or automatically)
2. The Creative Cloud application does not litter the system - the minimum required from it is
3. All localizations are included, selected during installation (de- DE, en-US, ru-RU, uk-UA are pre-installed)
4. The original installer is used, problems with other products are excluded.
Command line options:
-S or -S1 - hide the window with progress of unpacking temporary files
-S2 - show the window with progress unpacking temporary files
-S or -S1 or -S2 - will require personal parameter
/ XPATH= "PATH" - specify the installation location.
Default: C: \ Program Files \ Adobe \ Adobe Photoshop CC 2019
/ XDISABLENET = 1 - disable Internet connection for ~ 10 seconds to start installation
/ XVCR - install Visual C ++ Redistributable Package (necessary for the program to work)
Example: INSTALL.EXE -S / XPATH = "C: \ Program Files \ Adobe \ Adobe Photoshop CC 2019" / XDISABLENET = 1
Build changes:
[2019.06.12]
- Updated: Photoshop CC 2019 to version 20.0.5.27259
- Updated: Visual C ++ Redistributable Package to version dated 05.22.2019
DOWNLOAD
uploadgig
Code:
https://uploadgig.com/file/download/41A5f8dc93738eac/Adobe.Photoshop.CC.KpoJIuK.part1.rar
https://uploadgig.com/file/download/645BA54a02bc8e6A/Adobe.Photoshop.CC.KpoJIuK.part2.rar
https://uploadgig.com/file/download/7f5B7e544E5d7Ccc/Adobe.Photoshop.CC.KpoJIuK.part3.rar
https://uploadgig.com/file/download/36601ba1dD937e57/Adobe.Photoshop.CC.KpoJIuK.part4.rar
rapidgator
Code:
https://rapidgator.net/file/5d2cb36dbb8ff99ebed28a34022340a0/Adobe.Photoshop.CC.KpoJIuK.part1.rar
https://rapidgator.net/file/fcfd125a85420d48f337088e71ad9bf4/Adobe.Photoshop.CC.KpoJIuK.part2.rar
https://rapidgator.net/file/26cea05f1e6d68f6e259c6ea9387bbd2/Adobe.Photoshop.CC.KpoJIuK.part3.rar
https://rapidgator.net/file/d766e2ec977d861ccb34a5ca92623397/Adobe.Photoshop.CC.KpoJIuK.part4.rar
nitroflare
Code:
http://nitroflare.com/view/3E87A2D954D67FA/Adobe.Photoshop.CC.KpoJIuK.part1.rar
http://nitroflare.com/view/7D0A3D99150AAA6/Adobe.Photoshop.CC.KpoJIuK.part2.rar
http://nitroflare.com/view/C38D3CBFCE16AEB/Adobe.Photoshop.CC.KpoJIuK.part3.rar
http://nitroflare.com/view/D75AE3590194AC9/Adobe.Photoshop.CC.KpoJIuK.part4.rar